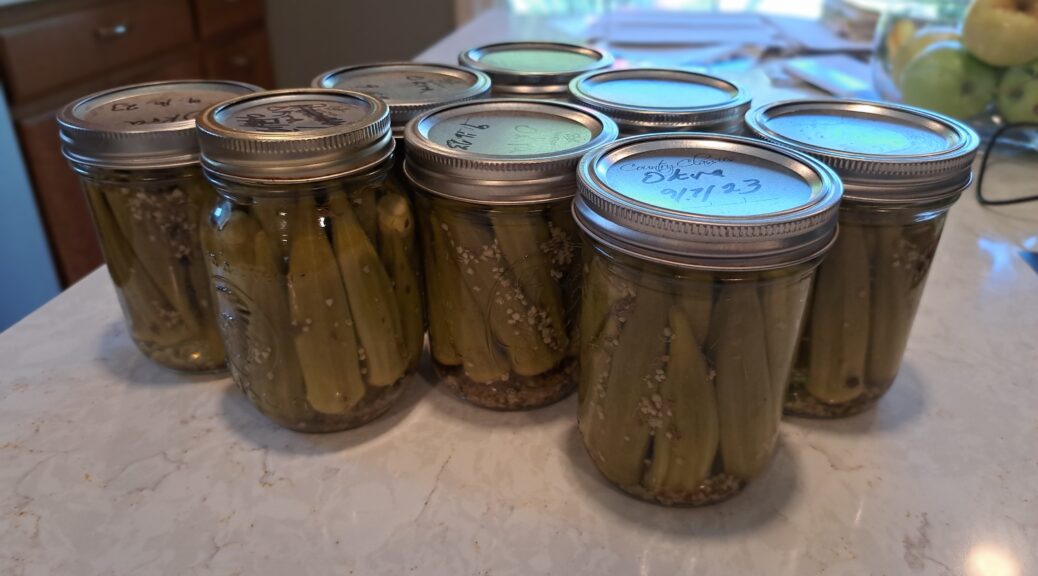 The rain we had a week or so ago really kicked the okra into high gear. I only like it fried, except if it's pickled. Boiled is too slimy for me.
I tried a canned recipe last year with a slice of lemon in it. It wasn't my favorite, so I tried another recipe this year. According to the directions you have to let it sit a few weeks, so I finally popped open a jar the other day. This one is better than last year.
If you're interested, I've added this year's recipe.
Pickled Okra
Ingredients
• ▢2 pounds okra choose small tender pods (may need more or less than two pounds)
• ▢3 cloves garlic peeled
• ▢3 teaspoons canning salt
• ▢3 teaspoons dill seed
• ▢¾ teaspoon whole peppercorns
• ▢1 ½ cups white vinegar 5% acidity
• ▢1 ½ cups water
Instructions
• Prepare jars, rings and lids according to standard canning procedure.
• Into the sterile jars, pack as many pods of okra as possible with the tips pointing up.
• To each jar add 1 whole garlic clove, 1 teaspoon of canning salt, 1 teaspoon of dill seed and 1/4 teaspoon of whole peppercorns.
• Finish packing the jars as much as possible with additional okra, tips down, fitting the pods in tightly but take care not to crush the okra.
• Bring the vinegar and water to a boil. Fill jars to within 1/4 inch of the rim.
• Place lids and rings on jars and process in a boiling water bath for 10 minutes.
• Remove jars from the canner and allow them to cool completely.
• Let the pickles sit for 4-6 weeks to achieve the best flavor.
Sally Jadlow writes historical fiction, inspirational articles, poetry, and short stories. She teaches the beginning writers for Kansas City Writers Group. Her books are available at https://www.amazon.com/-/e/B007F5H0H4