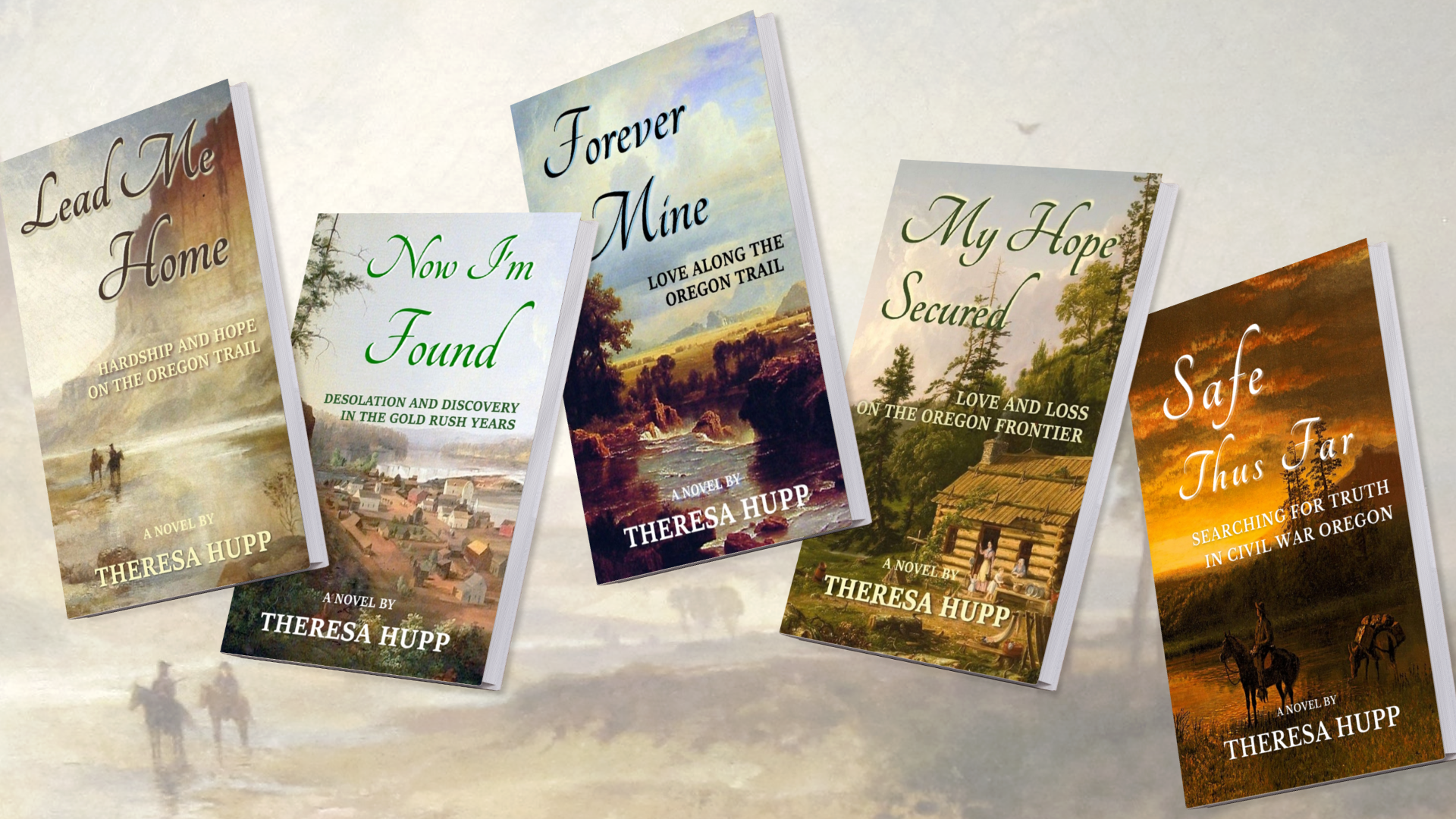 Theresa Hupp
Family sagas of pioneers in Oregon set in the 1840s-1860s.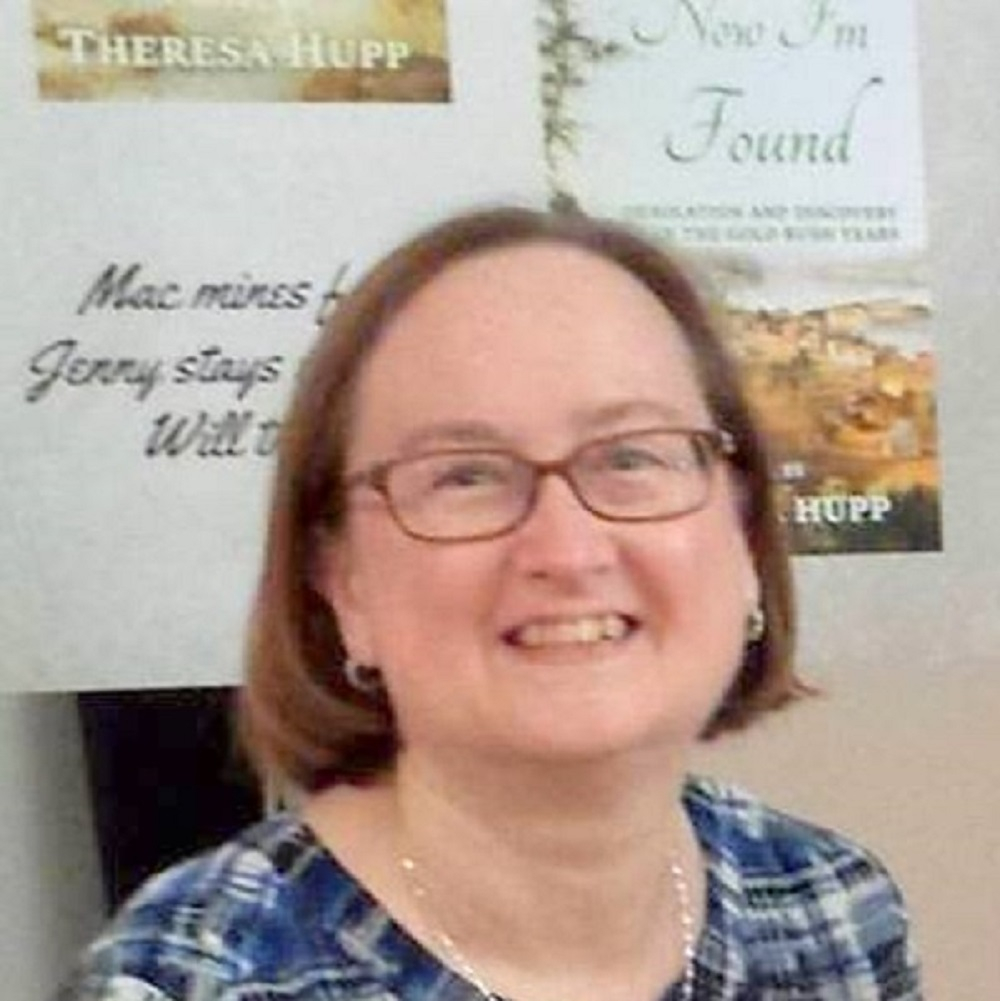 Theresa is the award-winning author of historical fiction about settling the American West. Her first novel, Lead Me Home, won the Missouri Indie Author Award for adult fiction sponsored by Library Journal and was a runner-up for the "Show Me" Best Book Award sponsored by the Missouri Writers Guild. Her next three novels, Now I'm Found, Forever Mine, and My Hope Secured, were all nominees for the Thorpe Menn Literary Excellence Award sponsored by the American Association of University Women—Kansas City Branch. Her latest novel, Safe Thus Far, was published in November 2021.
In addition to historical fiction, Theresa has published two contemporary corporate thrillers under a pseudonym, as well as short stories, essays, and poetry.
Before she turned to writing, Theresa was an attorney, mediator, and human resources executive. Theresa served on the boards of Whispering Prairie Press and The Writers Place, and is a member of the Historical Novel Society, the Missouri Writers Guild, Oklahoma Writers Federation, Inc., and the Kansas City Writers Group. She also has served on a variety of non-profit and civic boards and committees.
Follow Theresa on her website, https://TheresaHuppAuthor.com, or on her Facebook page, https://www.facebook.com/TheresaHuppAuthor.
Books by Theresa Hupp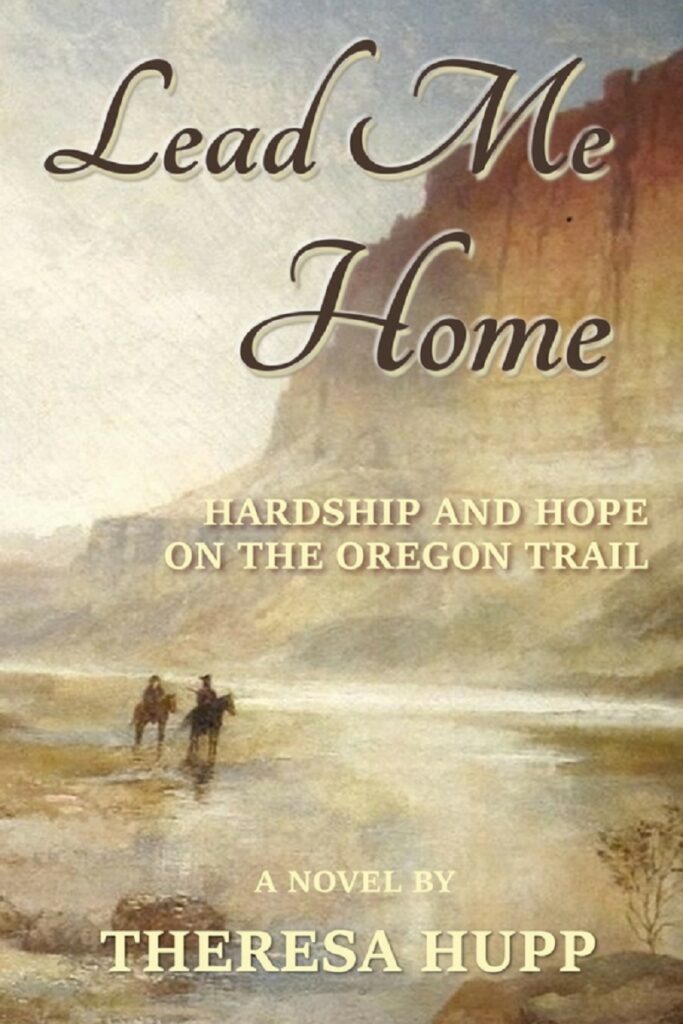 Lead Me Home: Hardship and hope on the Oregon Trail (Oregon Chronicles Book 1)
In 1847, Caleb "Mac" McDougall, a young Bostonian, seeks adventure on the Oregon Trail. As he passes through Missouri, he rescues Jenny Calhoun, a lonely girl in trouble.
To join a wagon train bound for Oregon, Mac and Jenny pose as a married couple. On the arduous six-month trek, they confront raging rivers, rugged mountains, and untrustworthy companions. Together, Mac and Jenny face the best and worst in themselves and in each other, while discovering the beauty and danger of the western frontier.
Fans of Lonesome Dove and True Grit will enjoy Lead Me Home—a gripping saga of courage, sacrifice, and enduring friendship.
Winner, Missouri Author Project Adult Fiction contest, sponsored by Bibliolabs and Library Journal.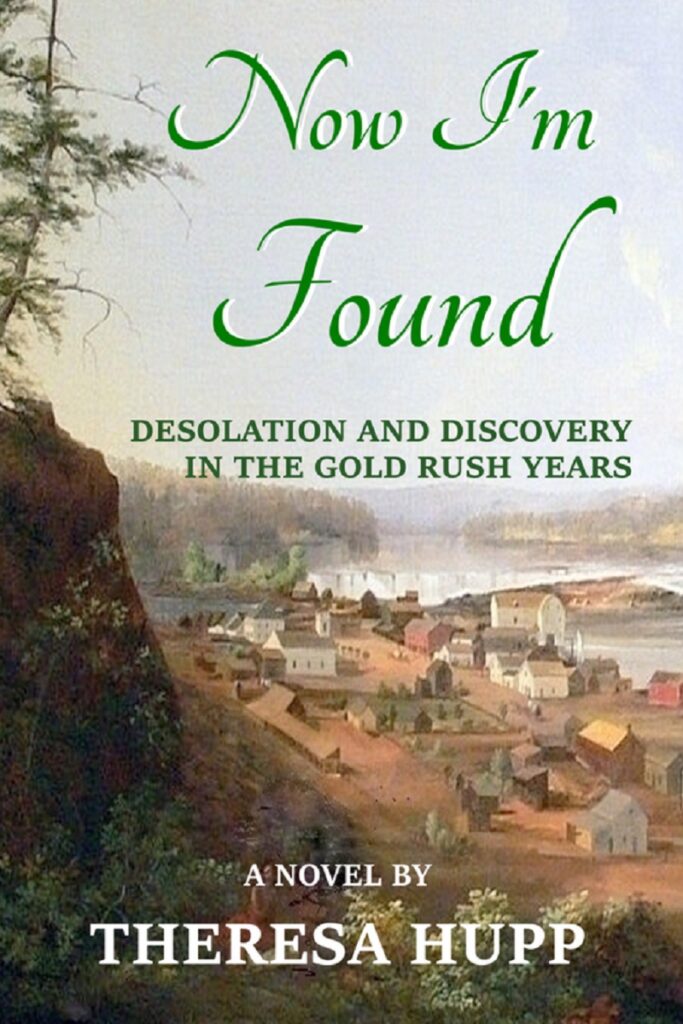 Now I'm Found: Desolation and Discovery in the Gold Rush Years (Oregon Chronicles Book 2)
After reaching Oregon by wagon with Jenny Calhoun, Caleb (Mac) McDougall must choose—return to the East or remain on the frontier. Mac's passion for Jenny has grown, but abuse in her past numbs her to his feelings.
Mac starts east, then learns of the California gold strike and joins hordes of prospectors seeking wealth, independence, and adventure. Alone in Oregon, Jenny forges a new life but fears losing her home if neighbors learn she is not Mac's wife.
Separately, Mac and Jenny confront violence, temptation, and heartache in a savage and abundant land. Their quests for happiness travel paths more tortuous than the Oregon Trail they conquered together.
NOW I'M FOUND is the sequel to the bestselling LEAD ME HOME: Hardship and Hope on the Oregon Trail. Theresa Hupp is also the author of award-winning essays, short stories, poetry, and a financial thriller written under a pseudonym.
"NOW I'M FOUND is an engaging companion to LEAD ME HOME. As in the first book, Theresa Hupp weaves a colorful story of the Western frontier . . . historically accurate and worthy of your time." Sally Jadlow, author of THE LATE SOONER series.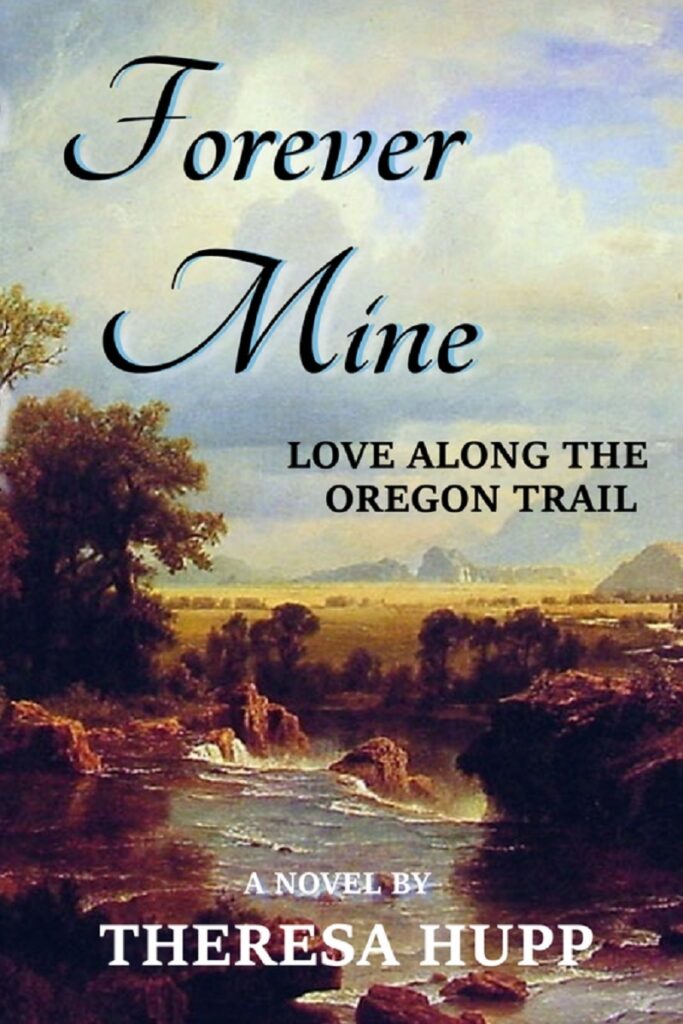 Forever Mine: Love Along the Oregon Trail (Oregon Chronicles Book 3)
Yearning for love, fifteen-year-old Esther Pershing is stuck on a wagon train to Oregon. Her father leads the 1847 company, her mother is ailing, and her younger siblings need her care. Nineteen-year-old Daniel Abercrombie, the only suitable young man on the journey, catches her fancy.
Though old enough to file a land claim in Oregon, Daniel is still a boy in his parents' eyes. Smitten by Esther's beauty and spirit, Daniel seeks her out.
What chance does the young couple's romance have, when their fathers argue at every turn of the trail and their travels bring only danger, disease, and death?
NOTE: Although FOREVER MINE is the third book published, it takes place at the start of this series' chronology and can be read as the first in the series.
"Historical novelist Hupp puts young lovers Esther and Daniel through hell and high water as they struggle to survive a grueling wagon trek to Oregon. As much family conflict as in Romeo and Juliet in this not so tragic romance." Norm Ledgin, author, SALLY OF MONTICELLO: FOUNDING MOTHER.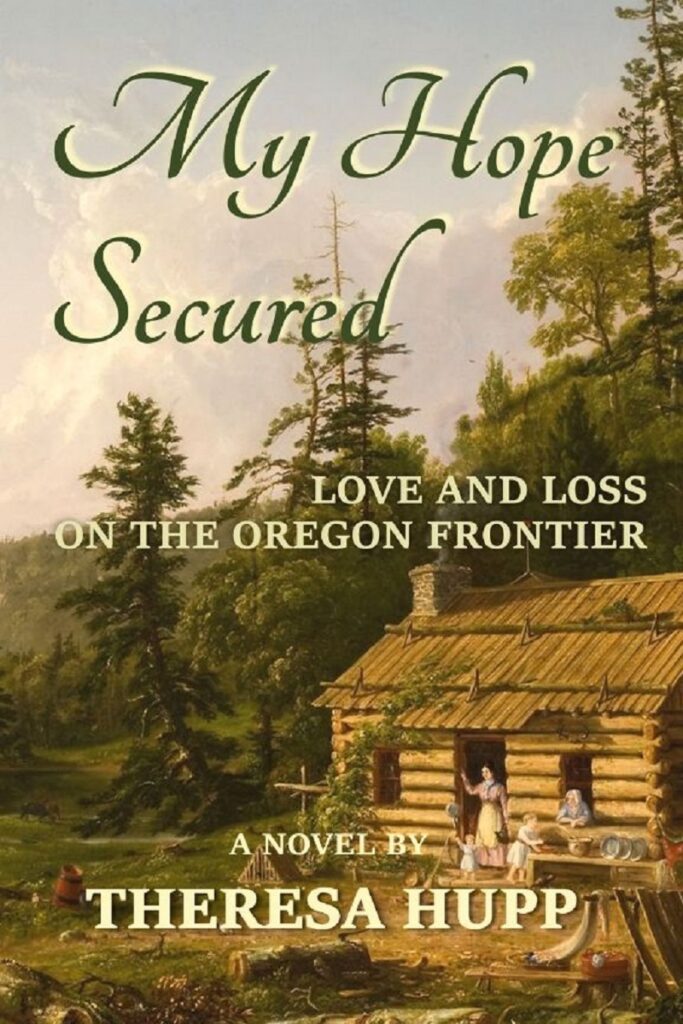 My Hope Secured: Love and Loss on the Oregon Frontier (Oregon Chronicles Book 4)
In late 1850 Hannah Bramwell arrives in Oregon City to help her widowed brother raise his children, only to discover his new wife does not want Hannah in their home. With no wilderness experience and a leg disabled in childhood, Hannah must learn to survive on her own.
Zeke Pershing, an Oregon farmer, loves the pristine woodlands from which he wrests his livelihood. But family tragedy leaves him with overwhelming responsibilities, and new homestead laws threaten to take half his land.
Brought together by necessity, Hannah and Zeke confront quarrelsome neighbors, ruthless thieves, and their own sorrows and fears as each struggles to find peace and prosperity on the untamed frontier.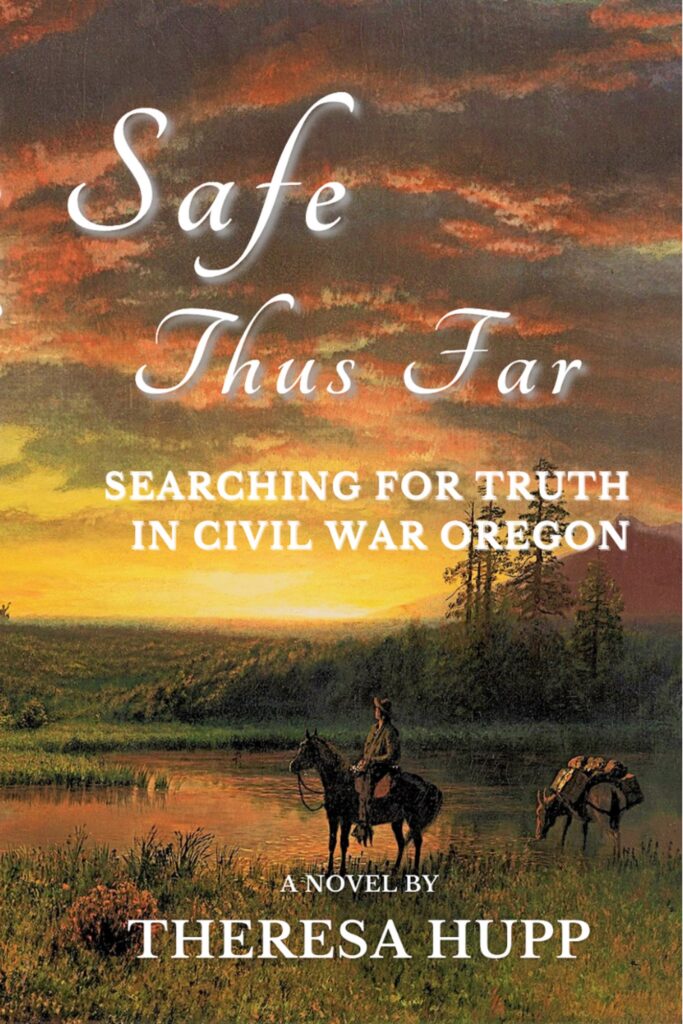 Safe Thus Far
Sixteen-year-old Will McDougall has completed the education available to him in the 1864 frontier town of Oregon City, and his future is uncertain. Then he learns his family's darkest secret—a secret his parents have concealed since his birth.
Devastated by this deception, Will runs away with a friend. The boys become mule packers for a militia unit exploring the untamed wilderness of Southern Oregon.
Against the backdrop of the Civil War, unfamiliar Army rules, and encounters with indigenous tribes, Will seeks to understand himself and his family's past . . . and to find his way home.