Who waits for Black Friday (now called "Thanksgiving evening") or Cyber Monday? When I was working I did as much of my Christmas shopping on the Monday through Wednesday before Thanksgiving as I could. Maybe the prices weren't as good, but the stores were less crowded. And that's what mattered most to me—getting in and out of the mall as quickly as possible.
That meant my kids' Christmas lists had to be done well in advance. So sometime in mid-November, I made them write letters to Santa listing what they wanted. In the days before they could write, I took dictation.
Taking dictation from a pre-schooler often requires a good deal of interpretive skill.
"I wanna bobbie vehwahwee," my three-year-old daughter told me.
"A what?" I asked.
"A bobbie vehwahwee," she said. She jabbered on describing it, but I only got more confused.
These were the days when her favorite food was "meat libbers"—which I knew meant a Meat Lovers' Pizza from Pizza Hut. But what on earth was a "bobbie vehwahwee"?
After much discussion that left her in tears at our failure to communicate, I finally deduced that "bobbie" was "Barbie."
But what was a "vehwahwee"?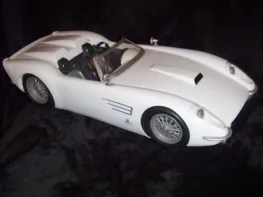 In desperation, I pulled out the J.C. Penney Christmas catalog, with glossy pictures of toys and other potential gifts. "Here," I said. "See if you can find it."
She turned each page and looked. "Bobbie vehwahwee," she said at last, jabbing her finger on the picture of the Barbie Ferrari.
I wrote it down, and got her list to Santa.
The next year, although my daughter's diction was better, I simply handed her the J.C. Penney catalog. "Just circle what you want," I said. Our discussion that year centered on how much was reasonable to expect Santa to carry in his sleigh.
What do you remember about letters to Santa?
Theresa is the award-winning author of historical fiction about settling the American West. Before she turned to writing, Theresa was an attorney, mediator, and human resources executive.
Follow Theresa on her website, https://TheresaHuppAuthor.com, or on her Facebook page, https://www.facebook.com/TheresaHuppAuthor.