When I was in second grade or so, my class sang the old song, "My Grandfather's Clock," by Henry Clay Work. The lyrics to the first verse and chorus are
My grandfather's clock was too large for the shelf,
So it stood ninety years on the floor;
It was taller by half than the old man himself,
Though it weighed not a pennyweight more.
It was bought on the morn of the day that he was born,
And was always his treasure and pride;
But it stopped short — never to go again —
When the old man died.

Ninety years without slumbering
(tick, tick, tick, tick),His life seconds numbering,
(tick, tick, tick, tick),It stopp'd short — never to go again —When the old man died.
Unlike the clock of this song, my maternal grandfather's clock did sit on the shelf. It also differed from the song, because it did not mark his age. It was manufactured long before his birth and it has survived over fifty since his death. Nevertheless, whenever I hear this song, my mind immediately goes to this clock and to my grandfather.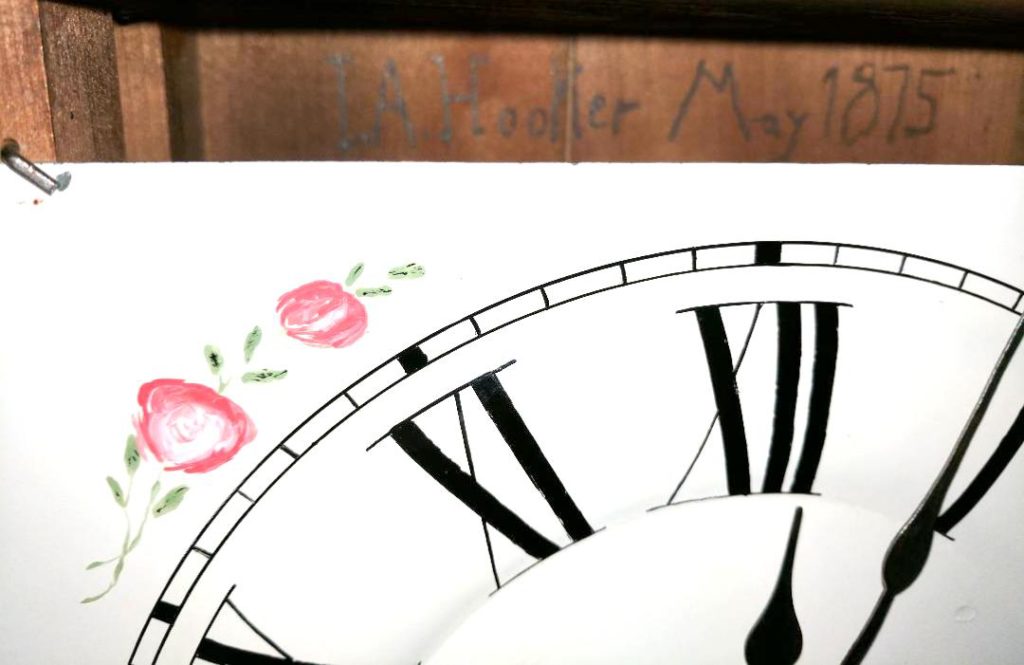 I don't know when the clock was manufactured. Seth Thomas started making clocks like this sometime in the 1830s, I believe. But I am pretty sure it came into our family in 1875 or so. My great-great-grandfather, Ira Allen Hooker, wrote inside "I.A. Hooker May 1875."
I don't know when my grandfather became the possessor of the clock. Family lore says that it sat in my great-grandmother's kitchen, above a smoky old stove, and was covered with soot and grime. My great-grandmother died when my grandfather was still a child, so I suppose he didn't take possession of it until he was an adult. Since its proletarian placement in the kitchen, it has been restored to its earlier glory, and (with some maintenance) it has kept good time as long as our family has owned it. Tick, tick, tick, tick.
My grandfather owned the clock for as long as I can remember. My memories of the clock date back to when I was a small child. The clock sat in my grandparents' house, and my grandfather wound it religiously every Sunday. It chimed the hour, and it ticked off the seconds—tick, tick, tick, tick—regardless whether the day was happy or sad, busy or boring.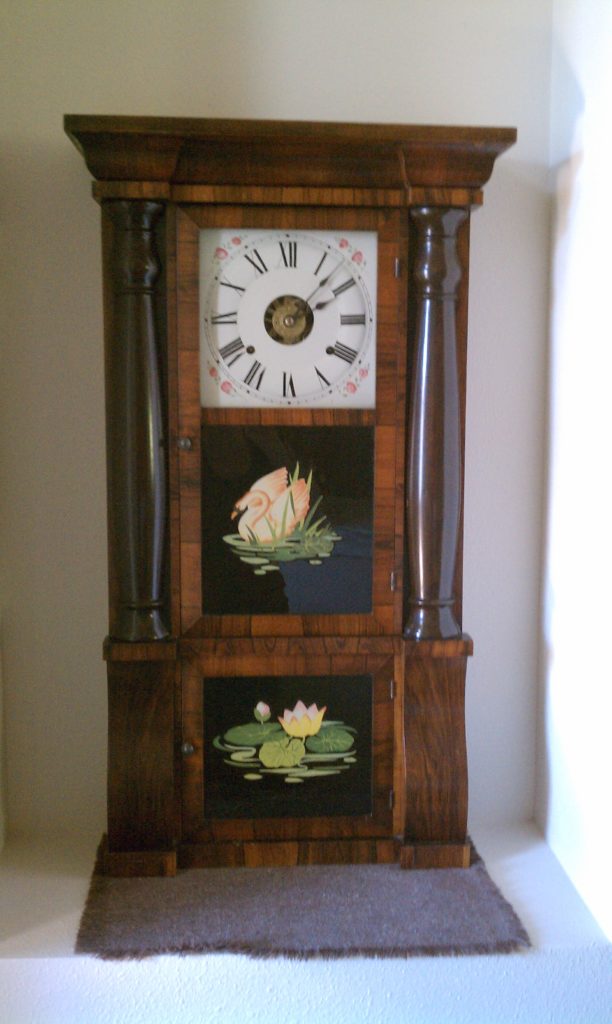 Not too long after my grandfather's death in 1966, my grandmother gave the clock to my parents. At that point, my father took over the weekly chore of winding the clock, and he also wound it every Sunday. From that time forward, the chimes sounded the hours through the days and nights of my childhood. Tick, tick, tick, tick. Some members of my family didn't like the clock's ticking and gongs, but I always found them comforting—a sign that I was in fact home. True, if I had a sleepless night, hearing the hours I laid awake could be disconcerting, but for the most part, the clock reminded me of the good times of my childhood.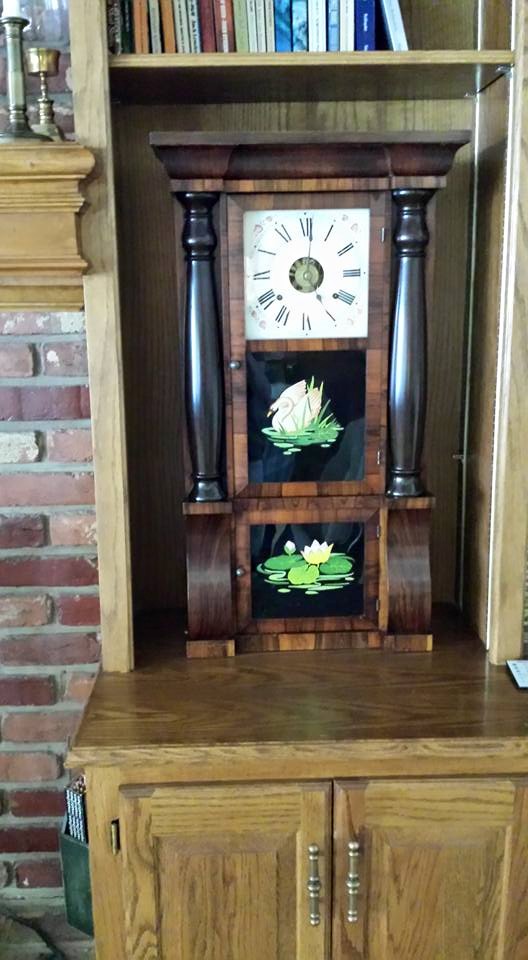 My father died on a Monday in January 2015. He must have wound the clock for the last time on Sunday, the day before he died. When I arrived to stay at his house the weekend after he died, it was still ticking. Tick, tick, tick, tick. And I thought of my father, knowing he would never wind it again.
Because no one would be staying in the house after I left, I let the clock wind down. Sometime on Monday, a week after his death, it stopped. The silence was an eerie reminder my father was gone. Unlike the song, it hadn't stopped short when the old man died, but because of my decision not to wind it, it didn't last many days longer.
Now the clock is in my home. I wind it every Sunday. My grandfather's clock again marks the time, and another generation assumes responsibility for this family heirloom. Tick, tick, tick, tick.
What family heirlooms remind you of generations past?
Theresa is the award-winning author of historical fiction about settling the American West. Before she turned to writing, Theresa was an attorney, mediator, and human resources executive.
Follow Theresa on her website, https://TheresaHuppAuthor.com, or on her Facebook page, https://www.facebook.com/TheresaHuppAuthor.